Gender dysphoria in children and adolescents: an inventory of the literature
A systematic scoping review
This report was commissioned by the Swedish government and is a scoping review of the literature on gender dysphoria in children and adolescents. The report can be a basis for further evaluation of risk of bias and evidence.
Conclusions
We have not found any scientific studies which explains the increase in incidence in children and adolescents who seek the heath care because of gender dysphoria.
We have not found any studies on changes in prevalence of gender dysphoria over calendar time, nor any studies on factors that can affect the societal acceptance of seeking for gender dysphoria.
There are few studies on gender affirming surgery in general in children and adolescents and only single studies on gender affirming genital surgery.
Studies on long-term effects of gender affirming treatment in children and adolescents are few, especially for the groups that have appeared during the recent decennium.
The scientific activity in the field seems high. A large part of the identified studies are published during 2018 and 2019.
Almost all identified studies are observational, some with controls and some with evaluation before and after gender affirming treatment. No relevant randomised controlled trials in children and adolescents were found.
We have not found any composed national information from Sweden on:
– the proportion of those who seek health care for gender dysphoria that get a formal diagnosis
– the proportion starting endocrine treatment to delay puberty
– the proportion starting gender affirming hormonal treatment
– the proportion subjected to different gender affirming surgery
Full report in Swedish
The full report in Swedish "Könsdysfori hos barn och unga"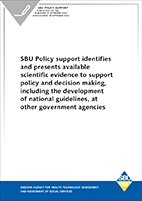 Download summary
SBU Policy support identifies and presents available scientific evidence to support policy and decision making, including the development of national guidelines, at other government agencies. In consultation with professional experts, SBU staff generates supporting documentation to address the various questions that have been posed.
| | |
| --- | --- |
| Published: | 12/20/2019 |
| Report no: | 307 |
| Registration no: | SBU 2019/427 |
https://www.sbu.se/307e
To top