Routine ultrasound examination during pregnancy
Assessment Objectives
The purpose of this assessment has been to investigate the medical benefits of routine ultrasound during pregnancy and the risks to the mother and child, including the short-term and long-term physical risks and the psychological impact. The assessment also includes an analysis of economic costs. The Swedish government commissioned SBU to conduct this assessment.
Assessment Strategy
Systematic literature search and critical appraisal of the data.
Data Collection
Systematic review of relevant databases, mainly MEDLINE. For psychological and ethical aspects, the databases PsycInfo, Bioethics, Cinahl, Spriline, and Swemed were also searched.
Current journals and reports addressing the topic, and reference lists from relevant publications were reviewed.
Review of the Manuscript
Internal review by the project group, the SBU Board of Directors, the SBU Scientific Advisory Committee, and external review by three experts.
How to cite this report: SBU. Routine ultrasound examination during pregnancy. Stockholm: Swedish Council on Health Technology Assessment in Health Care (SBU); 1998. SBU report no 139 (in Swedish).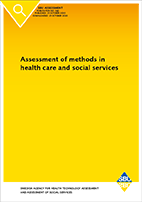 Download summary
SBU Assessment presents a comprehensive, systematic assessment of available scientific evidence. The certainty of the evidence for each finding is systematically reviewed and graded. Full assessments include economic, social, and ethical impact analyses.

SBU assessments are performed by a team of leading professional practitioners and academics, patient/user representatives and SBU staff. Prior to approval and publication, assessments are reviewed by independent experts, SBU's Scientific Advisory Committees and Board of Directors.
| | |
| --- | --- |
| Published: | 1/1/1998 |
| Report no: | 139 |
To top