Conclusions
Based on currently available evidence, it is not possible to determine the reliability of post mortem imaging as a complement or alternative to autopsy. Individual studies suggest that post mortem imaging could be useful for determining organ weights, for example, but further studies are required for confirmation.
Further studies are required to determine the benefits of post mortem imaging in clinical and forensic autopsies. These studies should meet the following requirements: greater conformity of study design, improved study quality and larger, preferably multicenter studies.
The greatest need for research in this field pertains to conditions in which there is a risk that autopsy could fail to detect important findings, and where it is considered difficult to extrapolate knowledge and experience from studies on living individuals.
How to cite this report: SBU. Post mortem imaging. Stockholm: Swedish Council on Health Technology Assessment (SBU); 2015. SBU report no 2015-01 (in Swedish).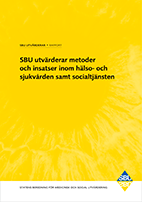 Download summary
SBU Assessment presents a comprehensive, systematic assessment of available scientific evidence. The certainty of the evidence for each finding is systematically reviewed and graded. Full assessments include economic, social, and ethical impact analyses.

SBU assessments are performed by a team of leading professional practitioners and academics, patient/user representatives and SBU staff. Prior to approval and publication, assessments are reviewed by independent experts, SBU's Scientific Advisory Committees and Board of Directors.
https://www.sbu.se/201501e
To top