Moderately Elevated Blood Pressure
The SBU report Moderately Elevated Blood Pressure, is based on a systematic and critical review of the scientific literature.
It is one of a series of scientific reports published by SBU. The Summary and Conclusions of the report, presented in this booklet, have been approved by the SBU Board of Directors and the Scientific Advisory Committee.
How to cite this report: SBU. Moderately elevated blood pressure. Stockholm: Swedish Council on Health Technology Assessment in Health Care (SBU); 2007. SBU report no 170 (in Swedish).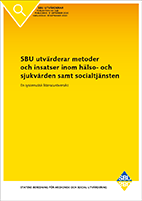 Download report
Download summary
SBU Assessment presents a comprehensive, systematic assessment of available scientific evidence. The certainty of the evidence for each finding is systematically reviewed and graded. Full assessments include economic, social, and ethical impact analyses.

SBU assessments are performed by a team of leading professional practitioners and academics, patient/user representatives and SBU staff. Prior to approval and publication, assessments are reviewed by independent experts, SBU's Scientific Advisory Committees and Board of Directors.
To top