Interventions to Prevent Obesity
An update of the chapter on preventing obesity in the SBU Report "Treating and Preventing Obesity – An Evidence Based Review".
(Originally published in Swedish, 2002. English edition published in 2004.)
Project Group: Mona Britton, Jan Östman, Ewalotte Ränzlöv.
Other contributors: Johan Bring (Statistical Analysis), Johan Skånberg (Chapter 4).
Manuscript reviewed by: Carl-Erik Flodmark, Claude Marcus, Jarl S:son Torgerson.
English translation by: Ron Gustafson.
Flodmark CE, Marcus C, Britton M. Interventions to prevent obesity in children and adolescents: a systematic literature review. Int J Obes 2006;30:579-89. Link to the article
How to cite this report: SBU. Interventions to prevent obesity. Stockholm: Swedish Council on Health Technology Assessment in Health Care (SBU); 2004. SBU report no 173E.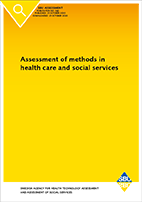 Download report
SBU Assessment presents a comprehensive, systematic assessment of available scientific evidence. The certainty of the evidence for each finding is systematically reviewed and graded. Full assessments include economic, social, and ethical impact analyses.

SBU assessments are performed by a team of leading professional practitioners and academics, patient/user representatives and SBU staff. Prior to approval and publication, assessments are reviewed by independent experts, SBU's Scientific Advisory Committees and Board of Directors.
| | |
| --- | --- |
| Published: | 11/10/2004 |
| Report no: | 173 |
To top