Instruments for Suicide Risk Assessment
Suicide is one of the leading causes of death worldwide. Identifying individuals at risk of future suicide or suicide attempts is of clinical importance. However, suicidal behaviour is complex and difficult to predict. Instruments have been developed to facilitate the assessment of the risk of future suicidal acts.
Conclusions
None of the included studies provided scientific evidence to support that any instrument had sufficient accuracy to predict future suicide with 80% sensitivity and 50% specificity.
There is strong evidence to support that the SAD PERSONS Scale has very low sensitivity. Most persons who make future suicidal acts are not identified.
Research is needed to clarify if assessment of suicide risk is enhanced when an instrument is used as a complement to the global clinical assessment. To date such research is lacking.
More research is needed to clarify the reliabil­ity of the commonly used instruments SUAS and C-SSRS.
As of yet there are no studies that assess whether the suicide item of the Montgomery Åsberg Depression Rating Scale (MADRS) can predict suicidal acts.
How to cite this report: SBU. Instruments for Suicide risk assessment. Stockholm: Swedish Agency for Health Technology Assessment and Assessment of Social Services (SBU); 2015. SBU report no 242 (in Swedish).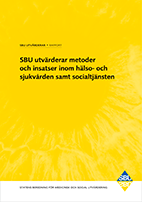 Download summary
SBU Assessment presents a comprehensive, systematic assessment of available scientific evidence. The certainty of the evidence for each finding is systematically reviewed and graded. Full assessments include economic, social, and ethical impact analyses.

SBU assessments are performed by a team of leading professional practitioners and academics, patient/user representatives and SBU staff. Prior to approval and publication, assessments are reviewed by independent experts, SBU's Scientific Advisory Committees and Board of Directors.
| | |
| --- | --- |
| Published: | 9/23/2015 |
| Report no: | 242 |
https://www.sbu.se/242e
To top