Endometriosis – Diagnosis, treatment and patient experiences
A systematic review and assessment of medical, economic, social and ethical aspects
Conclusions
GnRH-agonist and gestagen treatment seem to have similar pain-relieving effect, but ­GnRH-agonists decrease bone density.
Postoperative treatment with gestagen and mono­phasic contraceptives seem to have similar pain relieving effect in women with chronic pelvic pain and dyspareunia. Hormonal intra­uterine contraceptive devices may reduce dysmenorrhea in comparison to no treatment.
Vaginal ultrasound has a clinical value in the diagnosis of endometrioma, and before operating for deep endometriosis. This applies to the identification of the spread of disease in women with well-established clinical suspicion of endometriosis. Vaginal ultrasound is inexpensive, easily accessible, has no contraindications and requires no preparation. Healthcare professionals conducting ultrasound examinations need to be experienced.
During fertility treatment, the ultralong pretreatment with GnRH-agonist has a higher chance of resulting in pregnancy for women with endometriosis, compared to the short pretreatment.
Women with endometriosis symptom experience that they are treated with ignorance about endometriosis in the non-specialised care. They experience delays in both their diagnosis and treatment, and feel that healthcare professionals do not take their problems seriously. In addition, it appears that increased expertise and improved attitudes among health care professionals could improve the life situation of women with endometriosis.
Despite the large number of identified studies, there is a general lack of scientific evidence for most treatments. Future research should be more standardized regarding the length of treatment, follow up and evaluating the outcome/pain. More research is needed in the important areas of diagnostics, and evaluation of surgical treatment effect.
Background
Endometriosis is a chronic disease where the uterine mucosa (endometrium) grows outside the uterus. Women with endometriosis may be without symptoms or they may experience pain of varying degree. The most common types of pain are dysmenorrhea, dyspareunia and chronic pelvic pain. Endometriosis can also reduce fertility. The disease can affect quality of life, reduce the woman's ability to cope with work or study, and effect social relationships. It is estimated that around 10% of women of reproductive age have endometriosis. It takes five to seven years from the onset of symptoms until a diagnosis is set. There is currently no cure, but several treatments can relieve the symptoms.
Aim
The aim of this systematic review was to evaluate the scientific evidence with regards to diagnostic performance of different imaging methods for the diagnosis of endometriosis and to assess the ability of different treatments to reduce pain or improve fertility. In addition, qualitative studies regarding women's experiences with endometriosis health care were evaluated.
Method
Prospective peer-reviewed studies were included if they evaluated the ability of any imaging method to aid in the diagnosis of women presenting with clinical symptoms of endometriosis compared to surgical diagnosis, with or without the use of biopsies. Studies evaluating the effect of treatments should be prospective controlled studies that focus on women with diagnosed endometriosis. Due to advancements in both imaging technology and surgical techniques, studies addressing these questions needed to be published in 2000 or later. Qualitative methodology was used to assess women´s experience of endometriosis health care. Only studies with low or moderate risk of bias were included in the systematic review. The reliability of the scientific evidence was assessed using GRADE, or GRADE-CERQual for METASynthesis of qualitative data. The literature search was performed in November 2017.
Result
A total of 44 diagnostic studies, 181 treatment studies and 9 studies concerning women's experiences of the endometriosis health care were included in this systematic review.
Scientific uncertainties
This systematic review demonstrates that the scientific evidence is insufficient to answer many clinically relevant questions regarding diagnosis and treatment of endometriosis.
The included studies were most often carried out at specialist clinics, with a selected population and specialized staff; therefore, the results may not be transferable to public health care or the general public. Importantly, we do not have evidence to guide the treatment of pain when hormone treatments are ineffective. These patients are currently being treated with strong, potentially addictive, analgesics.
This report identifies many scientific uncertainties. This is in part due to study heterogeneity, that is, the inconsistent definitions of endometriosis in diagnostic studies, variations in the length of treatment or follow-up, and inconsistent evaluation and reporting of outcomes (dysmenorrhea, dyspareunia and pelvic pain) that make it difficult to reliably assess the body of evidence. In addition, it is difficult to ethically or practically assess some methods or focus on certain populations, for instance, the evaluation of surgical interventions, or diagnostic methods where the reference method is surgery.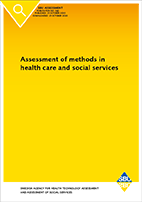 Download summary
SBU Assessment presents a comprehensive, systematic assessment of available scientific evidence. The certainty of the evidence for each finding is systematically reviewed and graded. Full assessments include economic, social, and ethical impact analyses.

SBU assessments are performed by a team of leading professional practitioners and academics, patient/user representatives and SBU staff. Prior to approval and publication, assessments are reviewed by independent experts, SBU's Scientific Advisory Committees and Board of Directors.
| | |
| --- | --- |
| Published: | 5/4/2018 |
| Report no: | 277 |
| Registration no: | SBU 2017/87 |
https://www.sbu.se/277e
To top