Treatment Duration for Lyme Disease
Conclusions
Better research, consisting of properly designed and well conducted studies measuring both benefits and risks, is needed to determine the optimal duration of antibiotic treatment for Lyme borreliosis. There is currently insufficient evidence to determine whether extending antibiotic treatment beyond 10 to 14 days improves health outcomes for patients with erythema migrans.
There is insufficient evidence to determine if extended antibiotic treatment has any significant effect on neuroborreliosis, Lyme arthritis or other persistent symptoms of Lyme borreliosis.
The extended treatment (>21 days) with antibiotics (ceftriaxone) via peripherally inserted central catheter, is associated with a not-insignificant risk of serious and potentially lifethreatening complications.
How to cite this report: SBU. Treatment duration for Lyme disease. Stockholm: Swedish Council on Health Technology Assessment (SBU); 2013. SBU report no 2013-05 (in Swedish).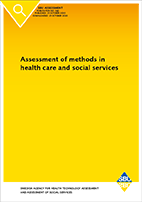 Download summary
SBU Assessment presents a comprehensive, systematic assessment of available scientific evidence. The certainty of the evidence for each finding is systematically reviewed and graded. Full assessments include economic, social, and ethical impact analyses.

SBU assessments are performed by a team of leading professional practitioners and academics, patient/user representatives and SBU staff. Prior to approval and publication, assessments are reviewed by independent experts, SBU's Scientific Advisory Committees and Board of Directors.
| | |
| --- | --- |
| Published: | 12/6/2013 |
| Report no: | 2013-05 |
https://www.sbu.se/201305e
To top