Arginine and caries prevention
Conclusions
At present there is insufficient evidence to determine whether arginine has a caries-preventive effect. Further studies of higher quality, and studies which are less dependent on commercial interests, are needed. The caries-preventive effects of fluoride toothpaste with arginine have been investigated in children. However, due to conflicts of interest and weak transferability to Swedish conditions, no conclusions can be drawn from these studies. They were funded by the company which manufactures the test product (arginine-containing toothpaste), and the company's representatives participated actively in every phase of implementation of the studies. One of the methods used in the studies, Quantitative Light-induced Fluorescence (QLF), measures only changes in dental enamel, which is regarded as a secondary effect measure. This reduces the transferability, as does the fact that the study population cannot be generalised to Swedish dental care.
Arginine-containing toothpaste costs about 40 percent more than basic fluoride toothpaste. To determine whether it is more cost-effective, the higher cost must be considered in relation to any additional caries-preventive effect of the arginine supplement. Preventive dental care is essentially self-care, hence it is up to the individual to decide what he or she is prepared to pay.
Questionable research ethics: several of the scrutinised studies included a control group of children who used non-fluoride toothpaste. Toothpaste without fluoride is not as effective against dental caries as the standard treatment – fluoride toothpaste – which has a well-documented effect. Using such a control group thus contravenes the fundamental principles of research ethics and could lead to suppression of research on this or other relevant scientific issues.
How to cite this report: SBU. Arginine and caries prevention. Stockholm: Swedish Council on Health Technology Assessment (SBU); 2015. SBU report no 2014-05 (in Swedish).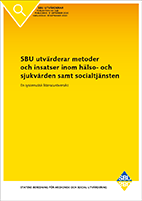 Download summary
SBU Assessment presents a comprehensive, systematic assessment of available scientific evidence. The certainty of the evidence for each finding is systematically reviewed and graded. Full assessments include economic, social, and ethical impact analyses.

SBU assessments are performed by a team of leading professional practitioners and academics, patient/user representatives and SBU staff. Prior to approval and publication, assessments are reviewed by independent experts, SBU's Scientific Advisory Committees and Board of Directors.
To top