Point-of-care ultrasound in primary care
Previously, ultrasound examinations have been performed by specialized personnel using advanced scanning devices. But with the current development in technology the devices are now smaller, more portable as well as cheaper, and thus more available also to clinicians in primary care.
Question
What scientific studies are there investigating the use of point-of-care ultrasound in primary care?
Identified literature
One systematic review with high risk of bias [1] and eight primary studies [2-9] were found relevant for the question. The primary studies were not assessed for risk of bias.
References
Andersen CA, Holden S, Vela J, Rathleff MS, Jensen MB. Point-of-Care Ultrasound in General Practice: A Systematic Review. Ann Fam Med 2019;17:61-69.
Blois B. Office-based ultrasound screening for abdominal aortic aneurysm. Can Fam Physician 2012;58:e172-8.
Bornemann P, Johnson J, Tiglao S, Moghul A, Swain S, Bornemann G, et al. Assessment of Primary Care Physicians' Use of a Pocket Ultrasound Device to Measure Left Ventricular Mass in Patients with Hypertension. J Am Board Fam Med 2015;28:706-12.
Evangelista A, Galuppo V, Méndez J, Evangelista L, Arpal L, Rubio C, et al. Hand-held cardiac ultrasound screening performed by family doctors with remote expert support interpretation. Heart 2016;102:376-82.
Greenlund LJS, Merry SP, Thacher TD, Ward WJ. Primary Care Management of Skin Abscesses Guided by Ultrasound. Am J Med 2017;130:e191-e193.
Karjalainen JP, Riekkinen O, Kröger H, Jurvelin JS. Ultrasound method for osteoporosis diagnostics at primary healthcare. Osteoporos Int 2012;23:S244-S245.
Karjalainen JP, Riekkinen O, Toyras J, Jurvelin JS, Kroger H. New method for point-of-care osteoporosis screening and diagnostics. Osteoporos Int 2016;27:971-7.
Lindgaard K, Riisgaard L. 'Validation of ultrasound examinations performed by general practitioners'. Scand J Prim Health Care 2017;35:256-61.
Nilsson G, Soderstrom L, Alverlind K, Samuelsson E, Mooe T. Hand-held cardiac ultrasound examinations performed in primary care patients by nonexperts to identify reduced ejection fraction. BMC Med Educ 2019;19:282.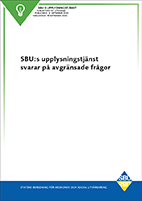 SBU Enquiry Service Consists of structured literature searches to highlight studies that can address questions received by the SBU Enquiry Service from Swedish healthcare or social service providers. We assess the risk of bias in systematic reviews and when needed also quality and transferability of results in health economic studies. Relevant references are compiled by an SBU staff member, in consultation with an external expert when needed.
| | |
| --- | --- |
| Published: | 11/19/2019 |
| Contact SBU: | registrator@sbu.se |
| Report no: | ut201934 |
| Registration no: | SBU 2019/343 |
To top