Patient education aimed at adults with intellectual disabilities and simultaneous diabetes for self-care of diabetes
Diabetes is a condition that requires lifelong adaptation to healthy living habits and, as needed, to medication. Diabetes is more common in people with intellectual disabilities than in the rest of the population. For people with intellectual disabilities and diabetes to have a good quality of life, they need, like other patient groups with diabetes, education and support for self-care. For this purpose, a patient education adapted to the target group for self-care is needed.
Question
What effect on diabetes and on the quality of life of the individual has adapted educational efforts for self-care of diabetes for adults (≥18 years) with intellectual disabilities and diabetes?
Identified literature
No relevant systematic review was identified but one primary study was identified [1]. The primary study was not assessed for risk of bias.
References
Taggart L, Truesdale M, Carey ME, Martin-Stacey L, Scott J, Bunting B, et al. Pilot feasibility study examining a structured self-management diabetes education programme, DESMOND-ID, targeting HbA1c in adults with intellectual disabilities. Diabet Med 2018;35:137-46.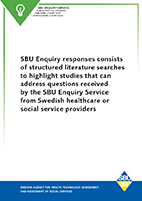 SBU Enquiry Service Consists of structured literature searches to highlight studies that can address questions received by the SBU Enquiry Service from Swedish healthcare or social service providers. We assess the risk of bias in systematic reviews and when needed also quality and transferability of results in health economic studies. Relevant references are compiled by an SBU staff member, in consultation with an external expert when needed.
| | |
| --- | --- |
| Published: | 2/21/2020 |
| Report no: | ut202008 |
| Registration no: | SBU 2018/563 |
To top