Guide dogs for people with vision loss
A guide dog is a specially trained dog that has been trained to help a person with visual impairment. The guide dog can lead past obstacles, indicate stairs and edges and more.
Question
What systematic reviews are there on the effect of guide dogs on people with vision disorders?
Identified literature
No relevant systematic review was identified but nine primary studies were identified [1–9]. The primary studies were not assessed for risk of bias.
References
Clark-Carter DD, Heyes AD, Howarth CI. The efficiency and walking speed of visually impaired people. Ergonomics 1986;29:779-789.
Gitlin LN, Mount J, Lucas W, Weirich LC, Gramberg L. The physical costs and psychosocial benefits of travel aids for persons who are visually impaired or blind. Journal of Visual Impairment and Blindness 1997;91:347-359.
Glenk LM, Přibylová L, Stetina BU, Demirel S, Weissenbacher K. Perceptions on Health Benefits of Guide Dog Ownership in an Austrian Population of Blind People with and without a Guide Dog. Animals (2076-2615) 2019;9:428-428.
Lieberman LJ, Haibach-Beach PS, Sherwood J, Trad A. "We now fly": Perspectives of adults who are blind with guide dogs trained for running. British Journal of Visual Impairment 2019;37:213-226.
Mariko Y, Yamamoto MM, Hart LA. Physical Activity and Welfare of Guide Dogs and Walking Activity of Their Partners. Anthrozoos 2015;28:277-289.
Mount J, Gitlin LN, Howard PD. Musculoskeletal consequences of travel aid use among visually impaired adults: Directions for future research and training. Technology and Disability 1997;6:159-167.
Wirth KE, Rein DB. The economic costs and benefits of dog guides for the blind. Ophthalmic Epidemiology 2008;15:92-98.
Deverell L, Bradley J, Foote P, Bowden M, Meyer D. Measuring the Benefits of Guide Dog Mobility with the Orientation and Mobility Outcomes (OMO) Tool. Anthrozoos 2019;32:741-755.
Whitmarsh L. The Benefits of Guide Dog Ownership. Visual Impairment Research 2005;7:27-42.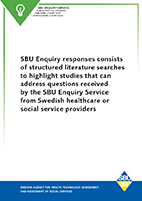 SBU Enquiry Service Consists of structured literature searches to highlight studies that can address questions received by the SBU Enquiry Service from Swedish healthcare or social service providers. We assess the risk of bias in systematic reviews and when needed also quality and transferability of results in health economic studies. Relevant references are compiled by an SBU staff member, in consultation with an external expert when needed.
| | |
| --- | --- |
| Published: | 12/20/2019 |
| Report no: | ut201941 |
| Registration no: | SBU 2019/699 |
To top