Effectiveness of non-invasive ventilation in the treatment of acute respiratory failure due to coronavirus
Viral infections caused by SARS-CoV-2, SARS-CoV-1 or MERS-CoV can lead to severe respiratory failure and the need for hospital care. The ventilation treatment can be invasive or non-invasive. The effectiveness of the ventilation on mortality and recovery may differ between the methods.
Question
What scientific studies are there on the effectiveness of non-invasive ventilation in the treatment of SARS-CoV 2, Sars-CoV-1 OR Mers-CoV?
Method
SBU's Enquiry Service identifies and summarizes systematic reviews or scientific studies which answer specific questions posed by decision makers and health care personnel. For this response, PubMed, Embase, Cinahl and Cochrane Library were systematically searched in March 2020. Records relevant to the question posed were identified and assessed for risk of bias by two independent persons. Systematic reviews were assessed for risk of bias using AMSTAR [1] and the identified primary studies were assessed for risk of bias using a translation of ROBINS-I [2]. This response does not attempt to weigh together or grade the reliability of the results presented.
Identified literature
One relevant primary study was identified [3]. One relevant systematic review and one of the primary studies which had a high risk of bias were also identified but was not tabulated in the report [4,5].
References
Shea BJ, Grimshaw JM, Wells GA, Boers M, Andersson N, Hamel C, et al. Development of AMSTAR: a measurement tool to assess the methodological quality of systematic reviews. BMC Med Res Methodol 2007;7:10.
Sterne JA, Hernán MA, Reeves BC, Savović J, Berkman ND, Viswanathan M, et al. ROBINS-I: a tool for assessing risk of bias in non-randomised studies of interventions. BMJ 2016;355:i4919.
Alraddadi BM, Qushmaq I, Al-Hameed FM, Mandourah Y, Almekhlafi GA, Jose J, et al. Noninvasive ventilation in critically ill patients with the Middle East respiratory syndrome. Influenza Other Respir Viruses 2019;13:382-90.
Esquinas AM, Egbert Pravinkumar S, Scala R, Gay P, Soroksky A, Girault C, et al. Noninvasive mechanical ventilation in high-risk pulmonary infections: a clinical review. Eur Respir Rev 2014;23:427-38.
Yam LY, Chan AY, Cheung TM, Tsui EL, Chan JC, Wong VC. Non-invasive versus invasive mechanical ventilation for respiratory failure in severe acute respiratory syndrome. Chin Med J (Engl) 2005;118:1413-21.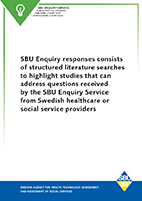 SBU Enquiry Service Consists of structured literature searches to highlight studies that can address questions received by the SBU Enquiry Service from Swedish healthcare or social service providers. We assess the risk of bias in systematic reviews and when needed also quality and transferability of results in health economic studies. Relevant references are compiled by an SBU staff member, in consultation with an external expert when needed.
| | |
| --- | --- |
| Published: | 6/8/2020 |
| Report no: | ut202021 |
| Registration no: | SBU 2020/383 |
To top