Auricular acupuncture in prescription drug dependence detoxification
Question
What systematic reviews are there on the effect of auricular acupuncture, or NADA protocol auricular acupuncture, on the prescription drug detoxification process?
Identified literature
One relevant systematic review was identified [1], see Table 1. Two primary studies were identified [2,3]. The primary studies were not assessed for risk of bias.
Table 1. Systematic reviews with low/medium risk of bias
Included studies
Population/Intervention
Outcome
Baker et al, 2016 [1]
4 RCTs
Adults with Opioid Use Disorder.
n=350
Auricular acupuncture according to the NADA protocol.
Primary:
Reduction in opiate dependence, craving or frequency of use.
Treatment retention.

Secondary:
Opiate withdrawal symptoms. Side effects of auricular acupuncture.
Other psychological or emotional symptoms of Opioid Use Disorder.
Authors' conclusion:
"While AA [Auricular Acupuncture] may not be beneficial in decreasing craving or withdrawal symptoms associated with OUD [Opioid Use Disorder], in conjunction with MAT [Medical Assisted Therapy] it may allow for reduced methadone doses, aid in treatment retention and completing, and be a useful adjunct to address psychosocial aspects of recovery."
References
Baker TE, Chang G. The use of auricular acupuncture in opioid use disorder: A systematic literature review. American Journal on Addictions 2016;25:592-602.
Bergdahl L, Broman JE, Berman AH, Haglund K, von Knorring L, Markström A. Auricular acupuncture versus cognitive behavioural therapy in the discontinuation of hypnotic drug usage, and treatment effects on anxiety, depression and insomnia symptoms − a randomised controlled study. European Journal of Integrative Medicine 2017;16:15-21.
Black S, Carey E, Webber A, Neish N, Gilbert R, Black S, et al. Determining the efficacy of auricular acupuncture for reducing anxiety in patients withdrawing from psychoactive drugs. Journal of Substance Abuse Treatment 2011;41:279-287.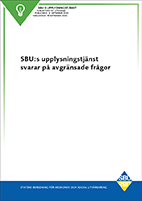 SBU Enquiry Service Consists of structured literature searches to highlight studies that can address questions received by the SBU Enquiry Service from Swedish healthcare or social service providers. We assess the risk of bias in systematic reviews and when needed also quality and transferability of results in health economic studies. Relevant references are compiled by an SBU staff member, in consultation with an external expert when needed.
| | |
| --- | --- |
| Published: | 6/26/2020 |
| Contact SBU: | registrator@sbu.se |
| Report no: | ut202028 |
| Registration no: | SBU 2020/381 |
To top