Antibiotic prescription during e-visits
E-visits where the patient and physician don't meet in person but have contact through the telephone or computer are already happening in Sweden. There is a concern that antibiotic prescription would be prescribed more generously at e-visits.
Question
Are there differences in antibiotic prescriptions in e-visits compared to physician office visits?
The complete Enquiry response is published in Swedish. Click on "På svenska" in the top menu to read it.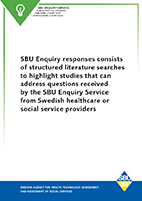 SBU Enquiry Service Consists of structured literature searches to highlight studies that can address questions received by the SBU Enquiry Service from Swedish healthcare or social service providers. We assess the risk of bias in systematic reviews and when needed also quality and transferability of results in health economic studies. Relevant references are compiled by an SBU staff member, in consultation with an external expert when needed.
To top