Allen test for assessment of blood circulation in the hand before insertion of an arterial catheter
Patients with impaired blood circulation in the hand is assumed to have greater risk of complications due to insertion of an arterial catheter. Allen test is one of several methods that can be used to identify these people.
Question
What scientific studies are there on Allen test or other similar tests and their capability to predict complications after insertion of an arterial catheter?
Identified literature
One relevant systematic review was identified but was assessed to have high risk for bias. Two relevant primary studies were identified [1,2]. The primary studies were not assessed for risk of bias.
References
Jirous S, Bernat I, Slezak D, Miklik R, Rokyta R. Post-procedural radial artery occlusion and patency detection using duplex ultrasound vs. the reverse Barbeau test. Eur Heart J Suppl 2020;22:F23-f29.
Maniotis C, Koutouzis M, Andreou C, Lazaris E, Tsiafoutis I, Zografos T, et al. Transradial Approach for Cardiac Catheterization in Patients With Negative Allen's Test. J Invasive Cardiol 2015;27:416-20.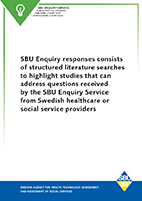 SBU Enquiry Service Consists of structured literature searches to highlight studies that can address questions received by the SBU Enquiry Service from Swedish healthcare or social service providers. We assess the risk of bias in systematic reviews and when needed also quality and transferability of results in health economic studies. Relevant references are compiled by an SBU staff member, in consultation with an external expert when needed.
| | |
| --- | --- |
| Published: | 6/30/2021 |
| Report no: | ut202116 |
| Registration no: | SBU 2020/679 |
To top