Surgery to treat gallstones and acute inflammation of the gallbladder
A systematic review and assessment of the social, medical, economic and ethical aspects
Conclusions
It is unclear whether patients experiencing a gallstone attack should receive surgical treatment or not. The scientific basis to assess this is insufficient and better studies are needed.
The body of evidence is currently insufficient to determine whether it is better to always surgically treat acute inflammation of the gallbladder. More well conducted studies are needed.
Patients with acute inflammation of the gallbladder can be surgically treated in the acute phase, within a few days of symptom debut, without increasing the risk for complications (compared to when the surgery is done later in an asymptomatic stage). Increasing the number of surgeries performed during the acute phase could free resources for the health care system. Just over 60% of surgeries for acute inflammation of the gallbladder are currently performed during the acute phase. SBU estimates that increasing acute phase surgeries to 90% could free three in-hospital days per patient, or about 3300 days per year (corresponding to nearly 26 million Swedish crowns yearly). What is more, patients who receive acute phase surgery are spared experiencing additional pain and suffering while they wait for their operation.
The risk for complications is reduced when patients with acute inflammation of the gallbladder are treated using laparoscopic surgical techniques compared to open surgery techniques.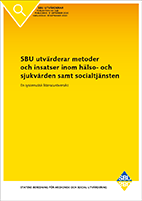 Download summary
SBU Assessment presents a comprehensive, systematic assessment of available scientific evidence. The certainty of the evidence for each finding is systematically reviewed and graded. Full assessments include economic, social, and ethical impact analyses.

SBU assessments are performed by a team of leading professional practitioners and academics, patient/user representatives and SBU staff. Prior to approval and publication, assessments are reviewed by independent experts, SBU's Scientific Advisory Committees and Board of Directors.
https://www.sbu.se/259e
To top