Diagnostic Imaging in Suspected Prostate Cancer
Conclusions
Current evidence does not support the routine use of the more advanced diagnostic imaging methods in place of ultrasound-guided tissue sampling when investigating suspected prostate cancer.
Higher quality studies are needed to investigate the reliability of diagnostic imaging techniques. This technical information is needed to allow the clinical efficacy of diagnostic imaging techniques to be better assessed in the future.
To be able to assess patients' survival and quality of life, as well as the cost-effectiveness of the imaging diagnostic techniques, long-term studies that examine both diagnostic methods and treatments are required.

How to cite this report: SBU. Diagnostic imaging in suspected prostate cancer. Stockholm: Swedish Council on Health Technology Assessment (SBU); 2014. SBU report no 2014-01 (in Swedish).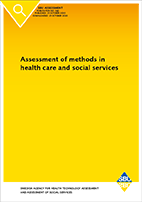 Download summary
SBU Assessment presents a comprehensive, systematic assessment of available scientific evidence. The certainty of the evidence for each finding is systematically reviewed and graded. Full assessments include economic, social, and ethical impact analyses.

SBU assessments are performed by a team of leading professional practitioners and academics, patient/user representatives and SBU staff. Prior to approval and publication, assessments are reviewed by independent experts, SBU's Scientific Advisory Committees and Board of Directors.
| | |
| --- | --- |
| Published: | 2/5/2014 |
| Report no: | 2014-01 |
https://www.sbu.se/201401e
To top