Aim
This report updates the previous SBU report \"Radiotherapy for Cancer\", published in 1996. The updated report presents a systematic review of the 13 types of cancer that were investigated in the previous report and also addresses two additional types, ie, esophageal cancer and rectal cancer.
Methods
The MEDLINE and Cochrane Library databases were searched for literature published from 1994 through 2001. The search for literature on esophageal cancer and rectal cancer also included RCTs and systematic literature reviews from the past 10 years. A new survey of Swedish practice was conducted during a 12-week period in the autumn of 2001. All hospitals that offer radiotherapy participated in the survey. The study included more than 5000 treatments.
Results
This report lends further support to the role of radiotherapy as an important form of both curative and palliative treatment. At present, radiotherapy is provided to nearly one half of all cancer patients at some stage in their disease. However, randomized controlled trials are needed to enhance the level of knowledge within several areas covered by the report. More patients must be included in clinical trials.
The scientific literature shows that surgery in combination with radiotherapy has curative effects on many types of cancer, eg, breast cancer, rectal cancer, sarcoma, cervical cancer, and uterine cancer. Radiotherapy alone may have curative effects on some types of cancer, eg, in head and neck cancer and certain types of lymphoma.
Radiotherapy is shown to have good palliative effects on metastasized cancer, particularly skeletal metastasis and symptomatic metastasis in the brain. A comparison of results from the literature review and the survey of treatment practice shows that curative radiotherapy in Sweden is delivered largely in accordance with the scientific evidence. Palliative treatments have increased, which concurs with the findings presented in the earlier SBU report.
How to cite this report:
SBU. Radiotherapy for cancer. Stockholm: Swedish Council on Health Technology Assessment in Health Care (SBU); 2003. SBU report no 162/1 (in Swedish).
SBU. Radiotherapy for cancer. Stockholm: Swedish Council on Health Technology Assessment in Health Care (SBU); 2003. SBU report no 162/2 (in Swedish).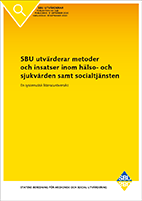 Download report
Download summary
SBU Assessment presents a comprehensive, systematic assessment of available scientific evidence. The certainty of the evidence for each finding is systematically reviewed and graded. Full assessments include economic, social, and ethical impact analyses.

SBU assessments are performed by a team of leading professional practitioners and academics, patient/user representatives and SBU staff. Prior to approval and publication, assessments are reviewed by independent experts, SBU's Scientific Advisory Committees and Board of Directors.
To top