Methods of Promoting Physical Activity
SBU's Conclusions
Advice and Counselling
Advice and counselling of patients in everyday clinical practice increases physical activity by 12–50% for at least six months after the counselling session (Evidence Grade 1).
More frequent, intensive counselling by means of repeated sessions for several months additionally boosts physical activity (Evidence Grade 3).
Counselling supplemented by prescribed physical activity, diaries, pedometers, informational brochures, etc, increases activity by another 15–50% (Evidence Grade 3).
Supervised Exercise in Group and Individualized Programs
A six-month group exercise program for patients with coronary artery disease promotes physical activity (Evidence Grade 3).
A six-month supervised exercise program for patients with peripheral arterial disease increases physical activity in terms of walking distance and/or time (Evidence Grade 3).
Health Economic Aspects
The availability of health economic studies that address the project's questions is highly limited, permitting no conclusions about the cost-effectiveness of the methods under consideration.
How to cite this report: SBU. Methods of promoting physical activity. Stockholm: Swedish Council on Health Technology Assessment in Health Care (SBU); 2007. SBU report no 181 (in Swedish).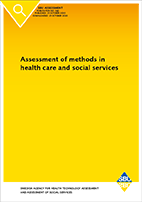 Download summary
SBU Assessment presents a comprehensive, systematic assessment of available scientific evidence. The certainty of the evidence for each finding is systematically reviewed and graded. Full assessments include economic, social, and ethical impact analyses.

SBU assessments are performed by a team of leading professional practitioners and academics, patient/user representatives and SBU staff. Prior to approval and publication, assessments are reviewed by independent experts, SBU's Scientific Advisory Committees and Board of Directors.
| | |
| --- | --- |
| Published: | 3/1/2007 |
| Report no: | 181 |
To top