Interventions to improve foster children's mental and physical health
A systematic review and assessment of the economic, social and ethical aspects
Many maltreated or troubled children and youth are placed in foster family care for shorter or longer periods. Those children have substantially increased risks of mental and health problems compared to other children, at time of care entry, while in care and in adulthood. It is therefore important to know if interventions for chil-dren residing in foster care are effective.
Conclusions
Interventions to children in foster care and their foster parents can improve the children's psychological and physical health, social situation, quality of life, and also the stability of placements. Due to the differences between the interventions and variation in the scientific design of the studies, it is not possible to determine which interventions or parts of these activities are better than others.
There is evidence that three specific interventions are effective:
– Attachment and Biobehavioral Catch-up targeting foster parents can improve children's attachment behaviors
– Incredible Years can improve parenting abilities of foster parents, as well as decrease children's externalizing behaviors
– Take Charge for young people can improve children's self-determination skills, high school completion and increase their like­lihood of future employment.
For the other 15 interventions that were identified in the systematic review, there was not sufficient studies to assess their effects, when applying the GRADE-model of assessing evidence from evaluations. The absence of robust evidence for these interventions does not necessarily imply that they are ineffective, rather that the empirical evidence is not up to GRADE-standards.
None of the interventions currently used in Sweden have been evaluated in controlled trials. In Swedish foster care service, emphasis is on investigating foster parent's suitability and preservice training. Providing structured interventions for children and foster parents in a systematic way when the child is in foster care is far less common. People who have grown up in foster care, their birth and foster parents – all express desires for interventions that support both children and foster parents during placement.
Far more research is needed to assess the impact of foster care interventions. All 18 interventions that the systematic review identified can presumably be successfully implemented in the Swedish context, but their effects should be evaluated in Sweden. The interventions already in use in Sweden need to be evaluated. Studies that highlight cost-effectiveness of interventions for foster children are generally few and far in-­between, and totally absent in a Swedish context.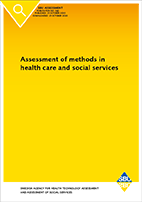 Download summary
SBU Assessment presents a comprehensive, systematic assessment of available scientific evidence. The certainty of the evidence for each finding is systematically reviewed and graded. Full assessments include economic, social, and ethical impact analyses.

SBU assessments are performed by a team of leading professional practitioners and academics, patient/user representatives and SBU staff. Prior to approval and publication, assessments are reviewed by independent experts, SBU's Scientific Advisory Committees and Board of Directors.
| | |
| --- | --- |
| Published: | 9/13/2017 |
| Report no: | 265 |
https://www.sbu.se/265e
To top