Autism spectrum disorders – Diagnosis and interventions, organization of care and patient involvement
Conclusions
Autism spectrum disorders in many cases involve major disabilities, and the instruments for diagnostic assessment should be better researched. There is scientific support for 2 of the 14 instruments evaluated. These instruments are Autism Diagnostic Interview-Revised (ADI-R) and Social Communication Questionnaire (SCQ) for autism spectrum disorders. For details of the diagnostic sensitivity and reliability of the two methods see the section "Evidence graded results". There is insufficient scientific evidence to draw any conclusions regarding other diagnostic instruments and assessment forms.
As the instruments have not been adequately evaluated, the diagnostic process should remain within the sphere of specialised care. It is also important to follow up the use of diagnostic instruments and assessment forms.
Many different interventions and treatments, apart from drugs, are currently used but knowledge of their benefits, risks and costs must be improved. We have identified 25 different interventions and treatment methods that are used with autism spectrum disorders. The scientific evidence for assessing the effectiveness of these is insufficient. Training which involves a combination of several methods is normal in Sweden, but its effectiveness has not been studied.
Drug treatment with risperidone reduces severe behavioural disturbances such as aggression and self-destructive behaviour in individuals with autism spectrum disorders. In children with autistic disorder short term treatment (2 months) with risperidone produces a slightly better effect than placebo in cases of severe behavioural disturbances such as social withdrawal, hyperactivity and stereotypical behaviour. A common side effect is weight gain.
Studies are needed into how care and community-based interventions should best be organised and coordinated for individuals with autism spectrum disorders.
The involvement of people with autism spectrum disorders and their families need to be improved. They should be asked more about their own ideas on care and schooling. At present people with autism spectrum disorders and their families experience stigmatisation, social isolation, a lack of knowledge amongst healthcare and school personnel, a lack of resources and a sense of powerlessness. Early diagnosis can reduce stigmatisation. It is also important that a lack of involvement does not impede the efforts of the care system and schools to achieve good communication and contact. It is also important to pay particular attention to siblings, who might otherwise experience problems with social relationships and sometimes might even be exposed to intimidating and violent behaviour. The scientific knowledge concerning the importance of involvement in autism spectrum disorders can be improved substantially.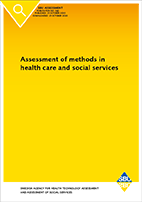 Download summary
SBU Assessment presents a comprehensive, systematic assessment of available scientific evidence. The certainty of the evidence for each finding is systematically reviewed and graded. Full assessments include economic, social, and ethical impact analyses.

SBU assessments are performed by a team of leading professional practitioners and academics, patient/user representatives and SBU staff. Prior to approval and publication, assessments are reviewed by independent experts, SBU's Scientific Advisory Committees and Board of Directors.
| | |
| --- | --- |
| Published: | 3/20/2013 |
| Report no: | 215 |
https://www.sbu.se/215e
To top