Virtual Reality in the treatment of eating disorders
In the treatment of eating disorders, virtual reality (VR) can be used in exposure therapy, where patients are exposed to food-related scenarios, or for patients with disturbed body image, where healthy-weight avatars are used in virtual reality-settings.
Question
What systematic reviews are there on the effect of virtual reality-based treatment for patients with eating disorders?
Identified literature
6 relevant systematic review were identified [1-6]. All 6 systematic reviews were assessed for risk of bias, and all were excluded due to a high risk of bias. The results from systematic reviews with high risk of bias are not presented.
References
1. Butler RM, Heimberg RG. Exposure therapy for eating disorders: A systematic review. Clinical Psychology Review. 2020;78.
2. Clus D, Larsen ME, Lemey C, Berrouiguet S. The Use of Virtual Reality in Patients with Eating Disorders: Systematic Review. Journal of medical Internet research. 2018;20(4):e157.
Dascal J, Reid M, Ishak WW, Spiegel B, Recacho J, Rosen B, et al. Virtual reality and medical inpatients: A systematic review of randomized, controlled trials. Innovations in Clinical Neuroscience. 2017;14(1-2):14-21.
De Carvalho MR, De Santana Dias TR, Duchesne M, Nardi AE, Appolinario JC. Virtual reality as a promising strategy in the assessment and treatment of bulimia nervosa and binge eating disorder: A systematic review. Behavioral Sciences. 2017;7(3).
Ferrer-García M, Gutiérrez-Maldonado J. The use of virtual reality in the treatment of eating disorders. Annual Review of CyberTherapy and Telemedicine. 2012;10:17-21.
Koskina A, Campbell IC, Schmidt U. Exposure therapy in eating disorders revisited. Neuroscience and Biobehavioral Reviews. 2013;37(2):193-208.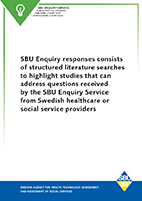 SBU Enquiry Service Consists of structured literature searches to highlight studies that can address questions received by the SBU Enquiry Service from Swedish healthcare or social service providers. We assess the risk of bias in systematic reviews and when needed also quality and transferability of results in health economic studies. Relevant references are compiled by an SBU staff member, in consultation with an external expert when needed.
| | |
| --- | --- |
| Published: | 1/18/2021 |
| Report no: | ut202102 |
| Registration no: | SBU 2020/475 |
To top