The diagnosis resignation syndrome (in Swedish: uppgivenhetssyndrom), since 1991 called e.g. pervasive refusal syndrome in the scientific literature, has been used to describe children suffering from symptoms such as an inability to eat, drink, walk, talk or care for themselves. In 2014 the diagnosis was included in the Swedish version of the International Classification of Diseases and related health problems (ICD-10 F32.3.A).
Question
What scientific studies have been published on resignation syndrome, regarding diagnosis and treatment?
Identified literature
Eight descriptive primary studies were identified [1-8] as well as a proposal for diagnostic critera [9]. However, no relevant systematic reviews, or primary studies regarding the diagnostic reliability or efficacity of treatment, met our inclusion criteria.
References
Aronsson B, Wiberg C, Sandstedt P, Hjern A. Asylum-seeking children with severe loss of activities of daily living: clinical signs and course during rehabilitation. Acta Paediatrica 2009;98:1977-1981.
Bodegard G. Pervasive loss of function in asylum-seeking children in Sweden. Acta Paediatr 2005;94:1706-7.
Bodegård G. Life-threatening loss of function in refugee children: another expression of pervasive refusal syndrome? Clinical Child Psychology & Psychiatry 2005;10:337-350.
Forslund CM, Johansson BA. Pervasive refusal syndrome among inpatient asylum-seeking children and adolescents: a follow-up study. Eur Child Adolesc Psychiatry 2013;22:251-8.
Lask B, Britten C, Kroll L, Magagna J, Tranter M. Children with pervasive refusal. Archives of Disease in Childhood 1991;66:866–869.
Sondergaard HP, Kushnir MM, Aronsson B, Sandstedt P, Bergquist J. Patterns of endogenous steroids in apathetic refugee children are compatible with long-term stress. BMC Res Notes 2012;5:186.
Thompson SL, Nunn KP. The pervasive refusal syndrome: the RAHC experience. Clinical Child Psychology & Psychiatry 1997;2:145-65.
von Knorring AL, Hultcrantz E. Asylum-seeking children with resignation syndrome: catatonia or traumatic withdrawal syndrome? Eur Child Adolesc Psychiatry 2019.
Jaspers T, Hanssen GMJ, Van der Valk JA, Hanekom JH, Van Well GT, Schievald JNM. Pervasive refusal syndrome as part of the refusal-withdrawal regression spectrum: critical review ofd the literature illustrated by a case report. Eur Child Adolesc Psychiatry 2009;18:645-651.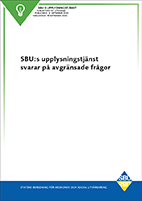 SBU Enquiry Service Consists of structured literature searches to highlight studies that can address questions received by the SBU Enquiry Service from Swedish healthcare or social service providers. We assess the risk of bias in systematic reviews and when needed also quality and transferability of results in health economic studies. Relevant references are compiled by an SBU staff member, in consultation with an external expert when needed.
| | |
| --- | --- |
| Published: | 1/31/2020 |
| Contact SBU: | registrator@sbu.se |
| Report no: | ut202003 |
| Registration no: | SBU 2019/664 |
To top