Prioritisation of research questions about maternal birth injuries
Prioritisation of Scientific Evidence Gaps using the James Lind Alliance Method
Which research questions about maternal birth-­related injuries should be given priority, in the opinion of women who have suffered childbirth-related injuries and healthcare personnel working in this field? SBU was commissioned by the government to facilitate prioritisation of questions within this field. Women with birth-related injuries and healthcare personnel were invited to collaborate in prioritising relevant research questions.
The aim of the report is to stimulate relevant research and well-conducted studies into questions which are regarded as of particularly high priority. This can apply both to research in the form of individual new studies, so-called primary research, and in the form of systematic reviews, in which the results of all studies within a specific field are critically appraised and summarized. The main target groups for the report are researchers, the bodies which fund research and authorities and organisations which compile research findings.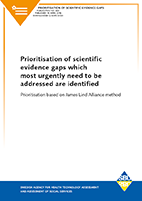 Download summary
Prioiritisation of scientific evidence gaps Scientific evidence gaps which most urgently need to be addressed are identified using a method developed by the James Lind Alliance in Great Britain that actively engages a broad range of stakeholders, including health care and social service providers as well as service users and their families.
| | |
| --- | --- |
| Published: | 4/10/2019 |
| Report no: | 300 |
| Registration no: | SBU 2018/406 |
https://www.sbu.se/300e
To top