SBU uses selected social media as well as other digital channels for communication. A few of these has English content.
SBU has decided to focus our social media participation on Twitter for now. For more information about SBU's participation in social media, please click here (in Swedish)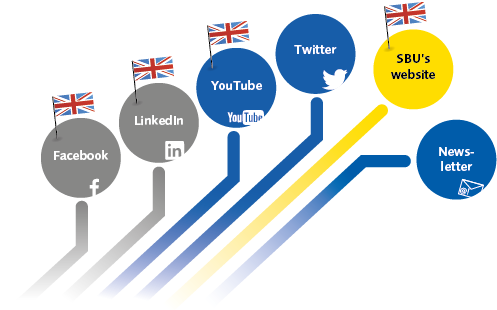 In order to contact SBU, please use the contact information available on our website, www.sbu.se/contact.
Contributions which are made via the social media which SBU uses will become public documents. They can be read by others and will be accessible via search engines. The information may be recorded in SBU's journal.
Contributions published by users other than SBU are not to be regarded as factual information from SBU and do not necessarily convey the authority's views.
SBU reserves the right to remove its own and others' contributions on SBU's channels. Contributions which can be interpreted as criminal conduct*, contain confidential information or information on private individuals' personal or economic circumstances are not to be published and will be removed immediately. We will also remove material with commercial purpose. SBU may block users who do not follow these rules. Please let us know about contributions which violate these rules by mailing registrator@sbu.se. SBU will not provide information as to whether a contribution has been removed from the medium or has been transferred to SBU's journal.
* Such as abusive information/crimes against the Personal Data Act, instigation of insurrection, threats against ethnic groups, child pornography crimes, unlawful depiction of violence, infringements of intellectual property rights, or infringements of rights which are protected by the provisions of Ch. 5 of the Act on Copyright in Literary and Artistic Works.