Summary
Arthroscopic removal of loose bodies and debridement of degenerated meniscal tissue and joint cartilage has not been shown to be effective in treatment of osteoarthrosis (OA) of the knee. The procedure is associated with increased risk of joint infection, haematoma in the knee joint, deep vein thrombosis and effusion. Moreover, the financial burden on health services is relatively high.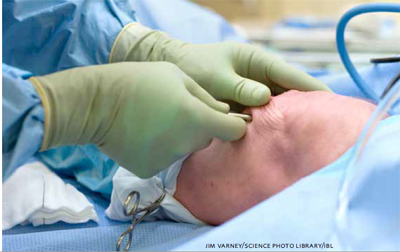 References
Socialstyrelsen, Nationella riktlinjer för rörelseorganens sjukdomar 2012, Socialstyrelsen, Stockholm 2012.
Sveriges kommuner och landsting & Socialstyrelsen. Öppna jämförelser av hälso- och sjukvårdens kvalitet och effektivitet. Jämförelser mellan landsting 2013, Stockholm.
Södra regionsvårdsnämnden, Regionala priser och ersättningar för Södra sjukvårdsregionen 2013, Södra regionvårdsnämnden, 2011.
Sydöstra regionsjukvårdsnämnden, Priser och ersättningar för Sydöstra sjukvårdsregionen 2013, Sydöstra regionvårdsnämnden, 2012.
Englund M, Guermazi A, Gale D, Hunter DJ, Aliabadi P, Clancy M, et al. Incidental meniscal findings on knee MRI in middle-aged and elderly persons. N Engl J Med 2008;359:1108-15.
Bhattacharyya T, Gale D, Dewire P, Totterman S, Gale ME, McLaughlin S, Einhorn TA, Felson DT. The Clinical Importance of Meniscal Tears Demonstrated by Magnetic Resonance Imaging in Osteoarthritis of the Knee. J Bone Joint Surg Am 2003;85:4-9.
Turkiewicz A, Petersson, IF, Björk J, Dahlberg LE, Englund M. The consultation prevalence of osteoarthritis 2030 may increase by 50%: prognosis for Sweden. Osteoarthritis Cartilage 2013;21(Suppl):S160-S161.
Yim J-H, Seon J-K, Song E-K, Choi J-I, Kim M-C, Lee K-B, Seo H-Y. A Comparative Study of Meniscectomy and Non¬operative Treatment for Degenerative Horizontal Tears of the Medial Meniscus. Am J Sports Med PreView, published on May 23, 2013 as doi:10.1177/0363546513488518.
Katz JN, Brophy RH, Chaisson CE, de Chaves L, Cole BJ, Dahm DL, et al. Surgery versus physical therapy for a meniscal tear and osteoarthritis. N Engl J Med 2013;368:1675-84. doi: 10.1056/NEJMoa1301408.
Socialstyrelsen. Nationella riktlinjer – Utvärdering. Vård vid rörelseorganens sjukdomar. Dataunderlag artros. Hämtad 2014-11-13 från www.socialstyrelsen.se/publikationer2014/2014-10-37
Socialstyrelsen. Nationella riktlinjer – Utvärdering. Vård vid rörelseorganens sjukdomar. Rekommendationer, bedömningar och sammanfattning. Socialstyrelsen: Stockholm; 2014.