A varied diet based on fruit, vegetables, wholegrain, low-fat dairy products, fish and vegetable oil lowers the risk of cardiovascular disease, obesity, type 2 diabetes and certain forms of cancer. An important question is if it is possible to increase the consumption of these groceries through subsidies on healthy food like fruit, vegetables and fish.

Question
Do subsidies of fruit, vegetables and fish have an effect on how much people consume these groceries?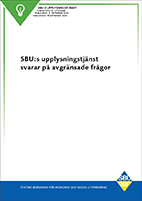 SBU Enquiry response consists of systematic literature searches to highlight studies that can address questions received by the SBU Inquiry Service from Swedish healthcare or social service providers. Relevant references are compiled by an SBU staff member, in consultation with an external expert when needed. The quality of the studies identified is not systematically reviewed.
Publikationer inom samma område
To top